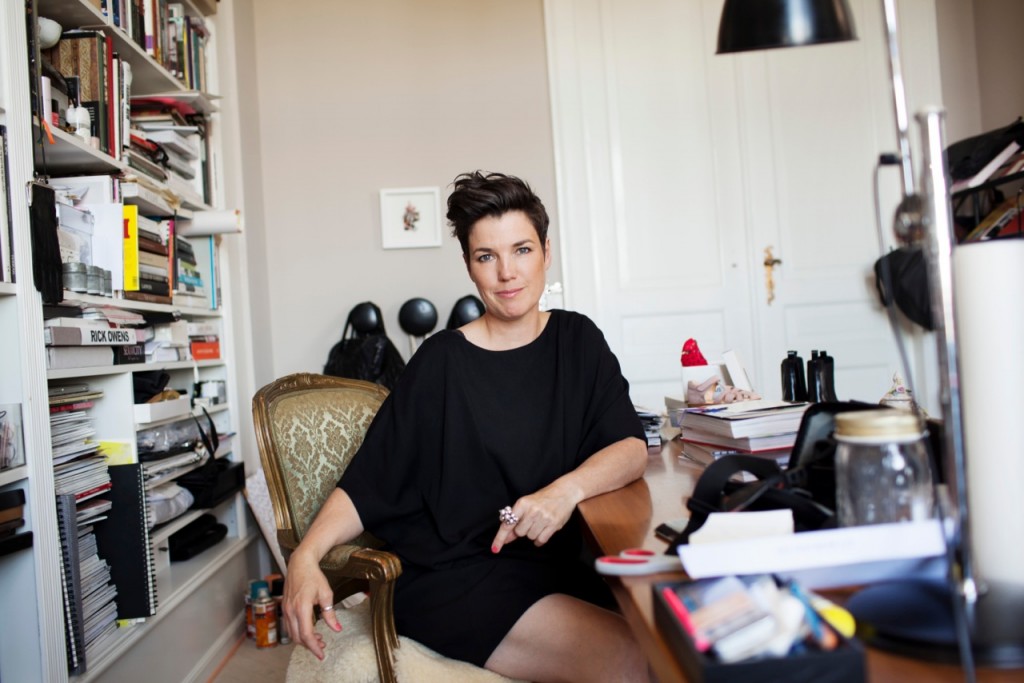 Profile               
The details enhance the perfect look. No such thing as an accessory adds character and an up-to-date
look to an outfit.
My passion for designing shoes, bags, purses and accessories lies in details. Marketing the right product at the
right time creates value strengthening and completing the brand value.
Following each detail in the design, through conscious choice of materials and trimmings, and in a
close cooperation with the production, packaging and finally presentation of product. The sense
of and attention to detail is key.
---
 Focus on sustainability
I have great interest in the developments within efforts of enhancing sustainability and with regard to developing new materials supporting the environment's health. I believe that in both the visual aspect and in the design of the products they should be identified as of quality and showing the love that defines and surrounds the product. To be proud of and to care for the quality of the product and the way it is produced. Conscious and sustainable responsibility from cradle to cradle is a natural part of my work.
---
Expertise
Footwear, bags and Accessory design
Women's and kids collection
Trend Analysis
Brand Identity
Colour story Creation
Focus on Sustainability
Research
Materials
Production
---
Career
Design Consultant
Freelance Shoe/Accessories Designer                                                                                                     2017 – Present
My passion for designing shoes, bags, purses and accessories lies in details. Marketing the right product at the
right time creates value strengthening and completing the brand value.
---
Hennes og Maurits, Stockholm
Product designer at H & M Hennes & Mauritz AB, Stockholm , Sweden                                            2014 – 2017
Girls shoes Department
https://www.pinterest.dk/mariannebritt/hm-shoes-for-girls/
_________________________________________________________________________________________________________________
ANGULUS, Copenhagen, Denmark                                                                                                                 2011 – 2014
Women's & kids Shoe brand
Design Manager
As design manager at Angulus I created a turnaround through renewing and strengthening DNA of the business and the identity of the design.
The basis of each business is the product. The brand surrounds the product. And brand Value is created through perception of the brand, the 'looks and feeling', what we do, what we say and consequently the uniqueness of the brand.
I have had the privilege to participate in all processes from designing/drawing to managing processes fabricating four collections twice a year seeing the collections all the way through the process and with clients and fans following my inspiration through the process via Instagram.
---
2009 – 2011
JØRNSEN, Copenhagen, Denmark
Handbags
Owner
My main motivation for initiating my own handbag design was my passion for materials and shaping. Jørnsen is a modern and innovative design in shape and detail, with a visually recognizable expression. The simple expression is key to the design, elegant and minimalistic, the shape follows the product's functions in a Nordic design tradition.
---
2006-2009
Kolding School of design, Kolding Denmark
ECCO / My Shoe
Lecturer
My Shoe is a project run under the auspices of Kolding School of design's Laboratory for Design and Sustainability. The School's laboratories develop new teaching methods and form communication and create space to experiment, thinking in new ways and challenging new ideas.
---
2007-2009
RE-THINK, Copenhagen, Denmark
Bicycle helmet for women
Designer
RE-THINK is a re-design of the bicycle helmet for women. Many women refrain the use of bicycle helmets due to the fact that there are no cool or feminine bicycle helmets. The result is that vanity reigns over security. Development of prototype, financially supported by Tryg-Fonden.
---
2006-2007
STADIUM AB, Norrköping, Sweden
SOC
Footwear designer, Freelance
Freelance designer on the in-house brand SOC. Stadium is one of the largest sports equipment chains in the Nordic countries. The mission of Stadium is to inspire people to an active life.
---
2006-2007
Normann Copenhagen, Copenhagen, Denmark
Move / Butterfly
Designer
Normann Copenhagen MOVE is a series of accessories for men. Credit card holder, money clips, key rings and pill box for the hectic everyday life.
"Move is designed as a line of products with a clear identity, simple and straight forward. The small details in design all have a specific function and this, together with simple shapes, makes it interesting to Move." Material: Brushed Steel – Rubber (in cooperation with Rikke Hagen)
Normann Copenhagen Butterfly can opener.
"It is often the constellation of the well-known, which creates new things. When we had to construct a can opener we wanted to create a user-friendly design with an ergonomic grip. In the field between the function of a can opener and the grip of a mountain climber we have made a design with weight and in a shape and in colours so that it no longer gets lost among knives, forks and spoons." (in cooperation with Rikke Hagen)
 ____________________________________________________________________________________________________________
2004
Ministry of Culture, Copenhagen, Denmark
The Minister's front office
Interior decoration at the Ministry of Culture in collaboration with furniture designer Louise Campbell
---
Education
MA, Master of Art in Footwear design, The Royal College of Art London, 2000
BA, MA, Constructed Textile, The Danish Design School Copenhagen, Denmark 1998
---
Technical Skills
Adobe, Illustrator, Photoshop, Office.
Proficient with PC and Mac.
---
Grants / Awards
Receive
The Danish Arts Foundation's Design grant, 2010
The Danish Arts Foundation's Design grant, 2007
The Danish Arts Foundation's Design grant, 2002
Junior Design Awards 2013 WINNER Best Footwear / ANGULUS
Junior Design Awards 2012 WINNER Best Footwear / ANGULUS
Børn i Byen Awards 2013 WINNER Best Kids Footwear / ANGULUS
Børn i byen Awards 2012 WINNER Best Kids Footwear / ANGULUS
Tryg Fonden' grant 70.000 EUR for prototype development of the "female bicycle helmet"
Winner of 'Manolo Blahnik Award" at the Royal College of Art and Design, 1999
---